Very little is said about Tibet and much less about the tragic story of the Panchen Lama, kidnapped by the Chinese government. He is second only to the Dalai Lama in spiritual authority and he is expected to reincarnate in a child. Following the death of the 10th Panchen Lama, a search was undertaken to discover his reincarnation. In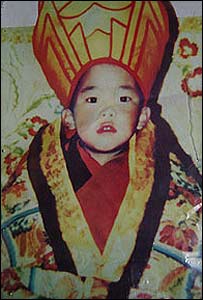 Gedhun Choekyi Nyima1995 the Dalai Lama recognized six-year-old Gedhun Choekyi Nyima as the 11th Panchen Lama, but this choice was rejected by the Chinese government, which took the boy into custody. Instead, the Chinese government "appointed" Gyancain Norbu the 11th Panchen Lama in late 1995.
This year, Gedhun Choekyi Nyima would be 34 years old. Three days after he was recognized the Chinese authorities abducted the Panchen Lama —a six-year-old child— and his parents, imprisoning them in an unknown location. Since then, nobody knows where he is, or even if he is alive, let alone whether under indoctrination he is even aware of his past or his important role in the future of Tibetan Buddhism.
In the Tibetan Buddhist tradition, the Panchen Lama has traditionally played a role in the recognition of the reincarnation of the Dalai Lama, just as the Dalai Lama, in turn, recognizes the Panchen Lama. China's intentions here are brutally obvious. The Communist regime abducted the Panchen Lama recognized by the Dalai Lama and, against our spiritual process, selected a boy of their own so that they can hope to control the identification of the next Dalai Lama.
Meanwhile, the repression to achieve the complete subjugation of the Tibetan people and the eradication of their culture and national identity continues in force.
Last week, Gonpo Kyi once again returned to the Tibet Autonomous Region Higher People's Court to protest the arbitrary detention of her 49-year-old younger brother, Dorjee Tashi. Despite having sustained beatings herself at the hands of China's police earlier this year in March, she continues to relentlessly call for her brother's release and plead for a fair retrial.
A former Tibetan businessman, Dorjee Tashi was arrested in 2008, and sentenced to life in prison in 2010. Attempts to frame him as a secessionist failed. Yet he is still being held in the notorious Drapchi Prison, where Tibetan prisoners are reportedly subjected to torture. His sister is simply calling for justice. In response, China's police surrounded Gonpo Kyi with a large black banner to hide her protest from the public.
Torture is one of those things that peoples all over the world hope humanity has long left behind, but unfortunately, Tibet's governing force doesn't appear to have received that particular memo. Organizations like Free Tibet and International Campaign for Tibet (ICT) list numerous political prisoners who have been tortured by the Chinese authorities, and the methods that have been used. Prisoners have also died as a result of torture.
In general, the human rights situation in Tibet has worsened dramatically since 2020, as Dharamshala-based rights group Tibetan Centre for Human Rights and Democracy (TCHRD) in its 2022 annual report released last March reported.
From safeguarding Tibet's environment from China's exploitative policies to helping pass groundbreaking laws like the Reciprocal Access to Tibet Act and the Tibetan Policy and Support Act, the International Campaign for Tiber (ICT) efforts are powered by peace-loving and democratic supporters donations and help.
If you have any questions, do not hesitate to reach out to Jackie Hernandez, ICT's Development Coordinator at This email address is being protected from spambots. You need JavaScript enabled to view it. or 202.580.6763.
Please, extend your generous hand in support of that brave and long-suffering people.