Ref. DC 182(2022)
Strasbourg, 23.09.2022.– The Council of Europe's Committee of Ministers has published the case-by-case decisions taken during the Committee's meeting from 20 to 22 September to supervise the implementation of judgments and decisions from the European Court of Human Rights.
The Committee of Ministers adopted 31 decisions concerning 19 member states during the meeting, including Interim Resolutions (*) in the Mammadli v. Azerbaijan group of cases and the Georgia v. Russia (I) case. 72 Final Resolutions (**) were adopted by the Committee in respect of 137 judgments and decisions from the European Court, concerning 28 different member states.
The Committee also adopted an indicative list of cases to be examined during its next dedicated meeting on the execution of judgments, which will take place from 6 to 8 December 2022.
Read more ...
La Equal Rights Coalition se reunió en Buenos Aires los días 8 y 9 de septiembre de 2022.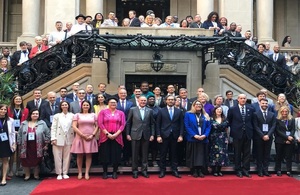 Buenos Aires, Sept.11.– La Coalición por la Igualdad de Derechos (ERC, por sus siglas en inglés) se ha reunido en Buenos Aires los días 8 y 9 de septiembre de 2022 para acordar una acción conjunta sobre los problemas urgentes a los que se enfrentan las personas LGBTI+ en todo el mundo. Fue una oportunidad única para que los gobiernos y los defensores y defensoras de los derechos humanos de base trabajen de forma conjunta y compartan las mejores prácticas.
Esta reunión tuvo lugar en un momento crucial, ya que cada vez hay más muestras de movimientos que socavan las libertades y los derechos humanos de las personas LGBTI+.
Read more ...
Strasbourg, 12.09.2022 - Following Russia's exclusion from the Council of Europe on 16 March 2022, as a result of its aggression against Ukraine, the Russian Federation will cease to be a High Contracting Party to the European Convention on Human Rights on 16 September 2022.
"Russia's aggression against Ukraine continues to bring pain and suffering to millions of people in Ukraine and all over Europe. We once again urge the Russian leadership to immediately stop the war in Ukraine and to put an end to the ongoing repression of its own people," said the Secretary General of the 46-state Council of Europe Marija Pejčinović Burić
"It is truly regrettable that, with its departure from the European Convention on Human Rights, Russia will further isolate itself from the democratic world and deprive more than 140 million Russian citizens of the protection offered by the Convention.
Read more ...
La inasistencia tendría que ver con una decisión adoptada por el canciller Álvaro Leyva.
Canciller Álvaro Leyva Durán Bogotá, Ago.29.– Un derecho de petición de Noticias Caracol permitió establecer en las últimas horas que la ausencia de Colombia en la sesión de la OEA para condenar las violaciones de derechos humanos por parte de Nicaragua, fue una orden del Gobierno Nacional.
El pasado 12 de agosto Colombia no estuvo en la sesión de la OEA convocada para votar la resolución que condenaba la violación de derechos humanos por el régimen de Daniel Ortega. Este hecho generó polémica en diversos sectores nacional e incluso a nivel internacional.
Read more ...
RP Alberto Reyes PíasEn una reflexión recientemente publicada en redes sociales, el sacerdote cubano Alberto Reyes Pías, de la Arquidiócesis de Camagüey, denunció que a la dictadura no le "importa nuestra vida", y advirtió que "el enemigo está en casa".
En su texto, titulado "He estado pensando… que a Dios no se le pregunta '¿por qué?'", el P. Reyes Pías, duro crítico de la dictadura comunista en la que vive Cuba por más de seis décadas, dijo que "creo, firmemente, que Dios nos ama y sabe lo que hace, y que nunca permitiría que a sus hijos llegara un sufrimiento inútil, porque nadie mínimamente bueno haría sufrir a otro ser humano por gusto".
"Sin embargo, constato que Dios permite que lleguen a nuestra vida sufrimientos profundos, que no siempre podemos evitar", señaló.
Para el presbítero cubano, "alzar el puño y decirle a Dios: '¿por qué?', sería admitir que no me ama, que se ha olvidado de mí, que me está castigando, o maldiciendo".
"Pero como esto es impensable en Dios, entonces sólo me queda admitir que, cuando Dios permite un sufrimiento, lo hace porque quiere darme algo, quiere que entienda algo, quiere que crezca, que me renueve, que sea mejor persona, que mi vida sea diferente".
Read more ...