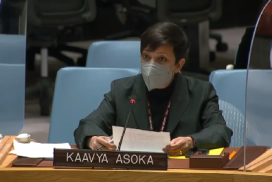 United Nations, Apr.30.– On April 26, 2023, women leaders from Afghanistan sent a letter to the UN Secretary-General expressing their concern regarding the statement made by the UN Deputy Secretary-General Amina Mohammed on April 17, 2023. Ms. Mohammed announced that the UN would convene a conference of Special Envoys for Afghanistan in Doha on May 1 and 2 to provide an opportunity to "find baby steps to put us back on the pathway to recognition" of the Taliban.
The undersigned women leaders, human rights defenders, peacebuilders, and civil society representatives restated that Afghan women have unequivocally advised against granting formal recognition or legitimacy to the Taliban since August 2021. In the letter, Afghan women leaders urged the UN Secretary-General to ensure that all UN leadership and staff are clear and consistent with their messaging that human rights, including women's rights and gender equality, must be front and center in all efforts to engender peace and security in Afghanistan.
The letter was sent five days in advance of the 1-2 May meeting of Special Envoys on Afghanistan in Doha.
Read more ...