In the center of Europe and faced with two world wars and other European conflicts, this small country, run by a family of rancid nobility, has maintained its neutrality, its friendship with its border neighbors, and open borders that welcome with joy and kindness all those who visit this piece of fairy tale land.
Liechtenstein: Big Adventures in One of the World's Smallest Nations
Vaduz, Sept.28.– (...)
Liechtenstein is a funny place. A micro-state sandwiched between Austria and Switzerland, skirted by the mighty Rhine River, its very existence includes a couple of interesting quirks. Covering little more than 60 square miles, just 15 miles from north to south, it's the smallest country in the world to border two different countries. And one of just two to be doubly landlocked (meaning you need to cross two different countries to reach the sea). 
Vaduz Castle
In some ways, this German-speaking country feels like a medieval kingdom, and perhaps that's not surprising. Liechtenstein is still ruled by a prince, and the castle he inhabits with his family rests on the flanks of a mountain visible to many of his subjects, who inhabit the spreading valley below, and who number fewer than 40,000 altogether.
The principality takes its name from the ruling family who occupied Liechtenstein castle in Lower Austria as far back as 1140, and over the centuries collected vast lands across Europe,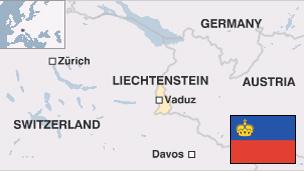 in Moravia (now part of the Czech Republic), Silesia (present-day Poland), and Styria (Slovenia and Austria). They acquired two neighboring lordships—Vaduz and Schellenberg—in 1699 and 1712; in 1719, Charles VI united them and declared Liechtenstein a principality in the Holy Roman Empire.
When Napoleon took control of the empire in 1805, he dissolved feudal arrangements, meaning Liechtenstein no longer owed obligations to the crown. In 1866, with the dissolution of the German Confederation, the country gained its independence. It remained neutral through the two world wars, and industrialized in the postwar period. Later, under Prince Hans Adam II, the principality joined the United Nations, the European Free Trade Association, and the World Trade Organization. Through a series of constitutional amendments, the prince sought to increase his power. These came to a referendum in 2003, and Liechtensteiners voted to affirm his ability to veto legislation, although they reserved the right to remove him by a vote of no confidence, should they deem that necessary.
(...)
[ Full text ]