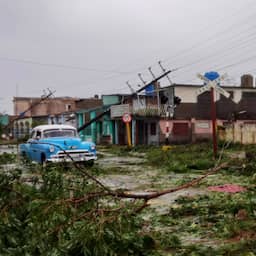 San Juan y Martinez (Cuba), Sept.29 (AFP).– Western Cuba's tobacco-growing heartland has been devastated by Hurricane Ian with piles of wood and tiles where farms once stood.
A triangle of three municipalities in the Vuelta Abajo region of Pinar del Rio province, the Cuban region worst affected by the tropical storm, is where the best tobacco leaves grow and is a pillar of the island nation's ravaged economy.
"We've never had a catastrophe of this scale," Maritza Carpio, who runs a tobacco estate in San Luis, told AFP.
Winds that reached speeds of more than 200 kilometers (125 miles) per hour left "an extremely difficult situation
Hurrican Ian devastation in Cubafor all farmers."
With Cuba's economy already in crisis and its vital tourism industry grinding to a halt during the coronavirus pandemic, "we don't know how we can face this," said Carpio.
(...)
[ Full text ]